Pool Safety Fences and Pool Safety Covers
Everyone wants to get maximum enjoyment from their investment in a pool, and water safety is key, not only for you, but for your guests as well. We offer pool safety fences and
pool covers
, installed by our trained professional technicians.
Contact us to have a Pool Safety Fence or Pool Cover installed today.
Call 770-218-0953.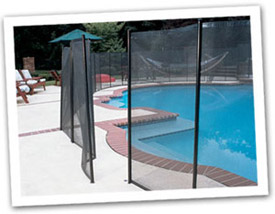 Here are a few guidelines to ensure you will have many enjoyable afternoons by the pool:
Never leave children alone at or near a pool, even for a moment.
Keep rescue equipment (such as a shepherd's hook or life preserver) and a telephone by the pool.

Anyone watching young children around a pool should learn CPR and be able to rescue a child if needed.

Remove all toys from the pool after use so children aren't tempted to reach for them.

After children are done swimming, secure the pool so they can't get back into it.

Consider barriers such as power pool covers, double locks or door alarms that are used for the home, and a child safety fence or gates to eliminate accidents.

Chemical safety is also important. Chemicals needed for clean, sanitized water are potentially harmful when stored or used improperly. Follow these simple rules for using, handling, and storing swimming pool chemicals:

Keep all chemicals out of the reach of children and pets
Use original lids on chemical containers and keep the lids closed tightly when not in use.

Store chemicals off of the floor in a cool, well-ventilated area.

Do not store pool chemicals where other flammable items may mix with them.

Chemical agents for test kits should be replaced each year.

Follow all instructions when using chemicals.

Always add chemicals to water – never add water to chemicals.

Never add chemicals while people are swimming; ask swimmers to leave the pool first.

Test your pool regularly; the more swimmers you have, the more often you need to test the pool water.

Always handle chemicals carefully and do NOT mix chemicals.

Do not smoke while handling chemicals.

Always wash your hands thoroughly after handling chemicals.

Do not allow chemicals to contact your eyes, nose or mouth. (In case of contact or if a chemical product is swallowed, follow the manufacturer's label or advice. Call your doctor or your local poison control center.)

Contact us to have a Pool Safety Fence or Pool Safety Cover installed today.
Call Today to schedule an appointment: 770-218-0953
Contact us by email at
bob@perimeterpoolservice.com
to sign up for a pool service program. We have the best Atlanta pool service.
We are located at:
Perimeter Pool Service
703 Fairgate Road, Suite 402
Marietta, GA 30064